WRITTEN BY ROB ADAMS|  MARCH 5, 2021 jazzineurope.mfmmedia.nl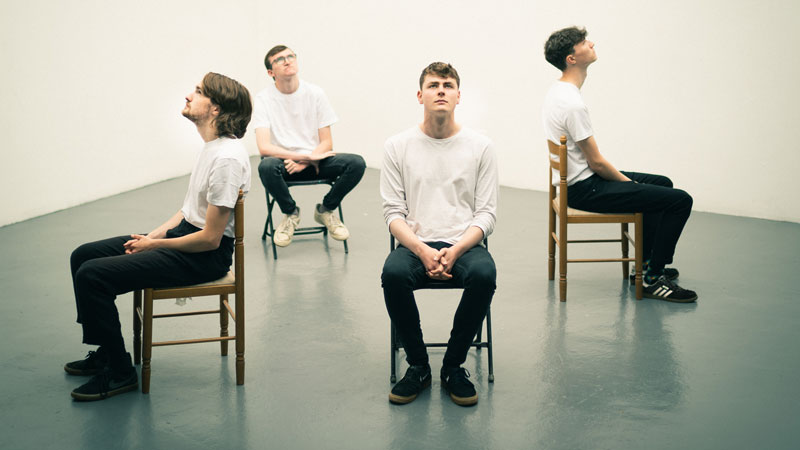 Glasgow-based saxophonist Matt Carmichael releases his first album, Where Will the River Flow on Friday, March 12, 2021. The BBC Young Jazz Musician 2020 finalist, who is due to graduate from the Royal Conservatoire of Scotland this summer, recorded the album just before the Covid-19 pandemic took hold last March and is looking forward to getting his music out into the world.
"It seems like quite a long time since we were in the studio," says the twenty-one-year-old who is releasing the album on his own label, Porthole Music, partly with the proceeds from winning the coveted Peter Whittingham Jazz Award for young musicians. "But when the boxes of CDs arrived it suddenly felt like there was something tangible, something more real about having made an album."
Early reviews have praised the quality of Carmichael's music – he composed all the tracks on the album himself – and the high standard of musicianship from the saxophonist and his group, which features multi-award-winning pianist Fergus McCreadie, bassist Ali Watson and Tom Potter, a former Young Drummer of the Year.
Carmichael began playing saxophone at school in Lenzie, East Dunbartonshire and despite not being especially aware of the instrument or indeed any saxophonists at the time, he discovered a natural aptitude for it. Through playing in the East Dunbartonshire Schools' Jazz Orchestra and the National Youth Orchestra of Scotland's jazz orchestra, he made friends with students at the Royal Conservatoire of Scotland.
He eventually applied for the RCS jazz course and the course leader, internationally regarded Scottish saxophonist Tommy Smith, presently invited him to join his youth jazz orchestra. Smith, who toured internationally with American vibes virtuoso Gary Burton in his teens, has since described Carmichael as "better than I was at that age" and rates Carmichael as world class.
Carmichael formed the quartet that features on the album in 2016 and they have developed a strong group sound and collective energy that have earned them appearances at venues and events including London's world famous jazz club Ronnie Scott's, the BBC Introducing Latitude Festival and Edinburgh Jazz & Blues Festival.
"I wanted to form a group that would have a stable line-up because having a regular group is the best way to develop the music," says Carmichael. "It's been great working together and getting to tour a bit. It would have been ideal to play some concerts to promote the album but that's not possible at the moment, so we're really looking forward to getting to play to people when the live music scene opens up again."
Carmichael, who was born and spent his early years in Conon Bridge, near Inverness in the Scottish Highlands, is influenced by Scottish traditional music as well as jazz. Three of the tracks on the album, Cononbridge, Spey and The Firth, reflect his strong feeling for the Speyside area. The impressions of the Highland landscape in his music come naturally, he says.
"If I'd grown up in New York or Philadelphia my music might well sound American," he says. "I've listened to the great American jazz masters, of course, but from the beginning I was drawn to the European school of jazz. I was able to relate to it more and I think the music you create comes from your surroundings. There's a track on the album called Sognsvann, which is named after a lake I used to visit just outside Oslo when I was studying on an Erasmus exchange there before I had to return home due to the pandemic."
The UK's withdrawal from the Erasmus scheme means he won't be able to continue those studies but he hopes to return to Norway to play with his group sometime. As one of a number of students and former students from the Royal Conservatoire of Scotland jazz course who are creating an impression and releasing well-received recordings, Carmichael is proud to be part of the Glasgow jazz scene that has grown around the RCS.
"It's been great to see the acclaim for Fergus [McCreadie], whose own second album, Cairn came out in January and has had fantastic reviews," he says. "Then there are groups including Graham Costello's STRATA, Mezcla, Nimbus Sextet and corto.alto who have attracted the attention of the wider music business. Every year there are more students emerging, so I think the future of Scottish jazz is looking very healthy."
Line-Up:
Matt Carmichael – Tenor Saxophone | Fergus McCreadie – Piano | Ali Watson – Double Bass | Tom Potter – Drums
Track Listing:
1. Sognsvann | 2. Firth | 3. Cononbridge | 4. The Spey | 5. Interlude | 6. Hopeful Morning | 7. There Will The River Flow | 8. Dear Grandma | 9. Valley
Release Date: 12 March 2021
Format: CD | Digital
Label: Independent Release